Home
/
About
/
Hoti History
Hoti History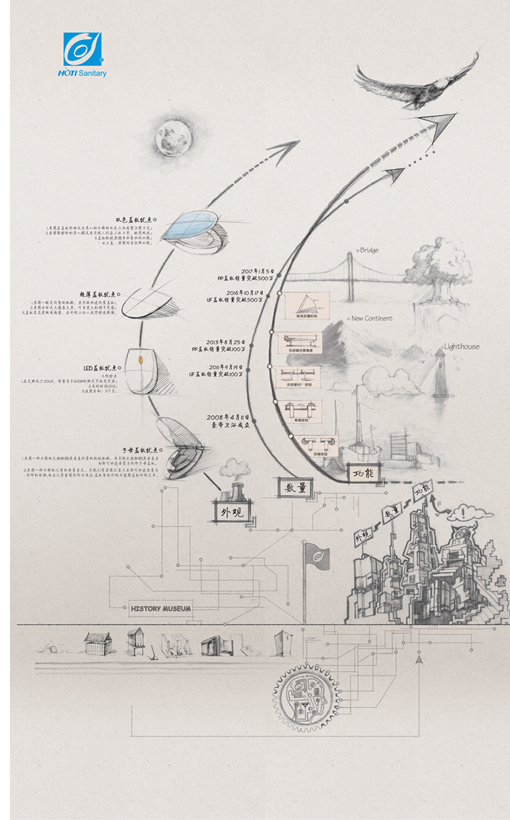 The history of Hoti
Hoti Sanitaryis a company which focuses on doing the best toilet seat so as to become the most reliable and professional ODM/OEM supplier for the top bathroom brands!

OnApril 11, 2008, Hoti (Xiamen) Plumbing Inc. was registeredin Xiamen Tong'an District Market Supervision Administration Bureau,abbreviate" Hoti ", it's homonym for "good" in Chinese, meaning that Hoti will get better and better.

OnJune 1, 2008, in a workshop of less than 3000 square meters, several energetic man, several passionate hearts and several pairs of eyes with eager for success, with the first set of toilet seat launched, marked the official birth of Hoti (Xiamen) Plumbing Inc.

In November 2008, the ERP system was implemented to enable more standardized execution of orders and ensure faster and more accurate information sharing among departments such as sales, supply chain and production.

In 2011, in three years, Hoti has achieved cooperation with four famous international brands -- Kohler, Lixil, Duravit and Roca, which represents the high-end international route of Hoti.We know that this road may be verydifficult,but all Hotipeopleskeep in mind the mission of "becoming the most professional toilet seat manufacturer in the industry".

In2013, the fifth year of the establishment of Hoti,theturnover exceeded 100 million RMB.

On July 10, 2017, the 10 millionth set of toilet seat completed. This set of historic toilet cover with the autograph of our boss Chen and all department managers is now displayed in our exhibition hall. Welcome to visit if you have the opportunity to our factory.

In 2018, the tenth year of the establishment of Hoti, the turnover exceeded 200 million RMB.

In July 2019, in order to meet the increasing order demand, Haoxing Factory, a newly built factory of Hoti was opened in Zibo.

In 2020, Hoti have bought a new land. Based on the model of Industry 4.0, Hoti will strive to build the most advanced intelligent manufacturing factory in the industry, which will become Hoti dream factory..

Today, in the industry we have achieved a good reputation, and with our brand-name customers to maintain a long-term, stable cooperation.

We also have our fives years plan, that is we will lead our company from Xiamen Hoti to China Hoti to World Hoti.

The core of Hoti is"the burning fighting soul". No matterhowmany difficulties and setbacks,Hoti peoplesare able to pull together to face it and do everything they can to solve it.

In the past, present and future, we only produce "good" toilet seat.